Interactive activity 'Filling up the Table' in the Ashmolean, by Vendi Jukic Buca
On Saturday, 24th March 2018, the part of GLAM (The Gardens, Libraries and Museums (GLAM) of the University of Oxford) Joint Museums Volunteer Service organised activities created by several volunteers to celebrate the Ashmolean's acquisition of the William Dobson's painting 'Group Portrait of Prince Rupert, Colonel William Legge and Colonel John Russell' on the 400th anniversary of the birth of Elias Ashmole. The whole event was named 'A Right Royal Adventure'.

'Filling up the Table'
As an archaeologist, Vendi Jukic Buca, PhD took a part in the program as author and conductor of the activity under the title 'Filling up the Table' in the Ashmolean museum The Activity was inspired by the empty table shown on the Painting. The idea was to bring the painting to life and to enable the visitors to recreate this historic scene using other artefacts available in the Museum.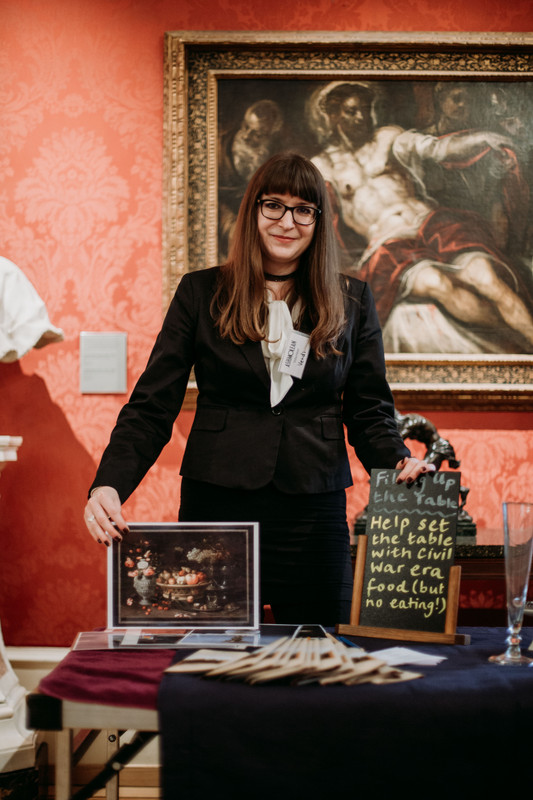 Vendi Jukic Buca. Photo by Ian Wallman.
The activity had multiple components: it included interactive object handling (17th century objects), setting up the empty table (as from the painting) with dishes and foods from the 17th century and taking pictures of the visitors dressed in the 17th century clothing (shown on the picture) with a Polaroid camera, followed up with the Trail. Visitors were motivated to leave a feedback.
The Trail consisted of the artefacts from adjacent rooms, carefully chosen and related to the Dobson's painting and/or 17th century tableware made in the UK or exported to the UK. The selection of recipes from 17th century was presented, included a one by Lady Ann Fanshawe, who lived in Oxford in 17th century, the author of a recipe book. Additional information about Oxford (e.g., England's coffee house being opened in Oxford in 17th century) was included. VJB was the designer of the Trail, as well as author of the drawings and photographs of the artefacts, other than those included in the database.
Both children and adults took part and enjoyed in the activity. The interest was high to the point that visitors queued in order to participate. Almost all printed Trails were taken.
Trail (A3, tri-fold):
Outside
Inside
Acknowledgements of the Author:
Special thanks go to Caroline Moreau and Joy Todd from the GLAM Volunteer Service, who realised the potential of this activity and acquired a significant amount of props, as well as for useful discussion and help expanding the idea.
I would also like to thank Rowan Guthrie from the Education Department who helped me with the preparation and photographic material research in the Ashmolean's database.
A big 'Thank you' goes to my wonderful volunteers, Linda and Nichola, who helped me on the spot!
Also, I would like to thank my colleague Kristina Gwirtzman for useful discussion, and my husband Berislav Buča for composing the pigeon joke!
Vendi Jukić Buča
In Oxford, 27th March 2018
Gallery of photographs (by the official Ashmolean museum photographer Ian Wallman)
Gallery of photographs of the whole event on the official site (by the official Ashmolean museum photographer Ian Wallman): https://iwphotographic.pixieset.com/ashmolean-rightroyaladventurebyianwallman/