STONE the crows! Two of the stars of Joseph and the Amazing Technicolor Dreamcoat came face to face with a selection of Egyptian artefacts when they popped over to the Ashmolean Museum.
Jaymi Hensley, who plays Joseph, and Andrew Geater, who plays Pharaoh, visited the exhibition as the Oxford institution between performances of the show, which is on at the New Theatre Oxford until Saturday (JUL20).
As part of the visit they saw the mummy and tomb of Djed Djehuty Iuef Ankh, carved panels as well as other relics and statues.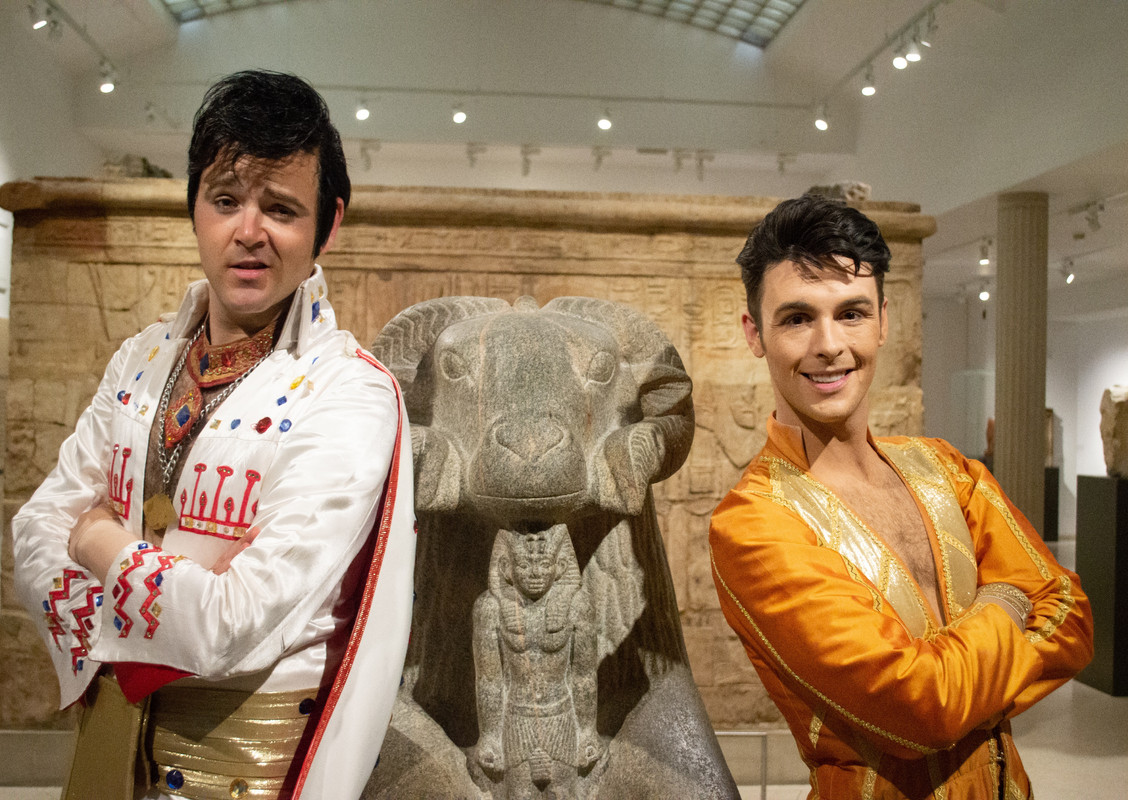 Andrew Geater and Jaymi Hensley at Ashmolean Museum ; Fotografiju ustupio The New Theatre Oxford
Jaymi said: "Being in in Oxford is a real pleasure. It's the last week of this part of the tour, so it's really excited to finish off here. Audiences here are really electric, so being here has been a lovely way to say goodbye to this part of the tour."
Retelling the Biblical story of Joseph, his eleven brothers and the coat of many colours, Joseph and the Amazing Technicolor Dreamcoat is the first of Tim Rice and Andrew Lloyd Webber's musicals to be performed publicly. Seen by an estimated 26 million people, and counting, Joseph continues to enthral audiences around the world.
Full of life and colour, the magical musical features unforgettable and timeless songs including Go, Go, Go Joseph, Any Dream Will Do, Jacob and Sons and Close Every Door To Me. 
Tickets can be purchased from the New Theatre box office on George Street, by ringing 0844 871 3020 or by visiting our website at www.atgtickets.com/oxford (phone and internet bookings subject to booking/transaction fee. Calls are charged at 7p per minute, plus your phone company's access charge.). For bookings of 10 or more please call 0333 009 5392 (calls are charged at local rate – for group bookings only) and for access bookings please call 0800 912 6971 and speak to a member of our dedicated booking team.
[izvor informacije The New Theatre Oxford]
KAZALIŠTE: JOSEPH AND THE AMAZING TECHNICOLOR DREAMCOAT, mjuzikl [osvrt Ada Jukić]
Tekst je prenesen s web stranice www.film-mag.net
The New Theatre Oxford: Joseph stars visit Egypt exhibit, ≥http://film-mag.net/wp/?p=39791. Fotografije ustupio The New Theatre Oxford

Objavljuje F.I.L.M. u Petak, 19. srpnja 2019.