U drugom Summa summarum-u predstavljamo sažetak najvažnijih postignuća tijekom 10 godina djelovanja prvog hrvatskog internetskog portala o arheologiji Arheologija.hr. Tekst predstavlja nastavak Sažetka iz 2015. godine: Riječ Urednika – 'Summa summarum aktivnosti 6 godina poslije osnivanja Ususret 7. godini 'arheološke ere' avec les bonnes résolutions pour 2016′ > http://www.arheologija.hr/?p=7844].*
Od listopada 2017. godine Uredništvo Portala djeluje iz Oxforda, Velika Britanija. Poticaj preseljenju bilo je Berislavovo zaposlenje na postdoktorskoj poziciji na Sveučilištu (5. godinu za redom Sveučilište u Oxfordu najbolje je svjetsko svučilište https://www.ox.ac.uk/news/2020-09-02-five-years-top-oxford-retains-first-place-world-university-rankings).
Iako je povećani opseg obaveza u Oxfordu te brojnih aktivnosti suradnikâ utjecao na smanjenja autorskih članaka na Portalu (izuzev serije traktata Ade Jukić na temu Homerove Ilijade), razina prijenosa informacija o aktualnim arheološkim događanjima u Hrvatskoj i široj regiji ostala je ista. Naime, 2019. Godine Robert Jukić preuzeo je glavnu ulogu u redovitom publiciranju sadržaja.
Kao najznačajnije, navodimo napredovanja suradnika Portala na profesionalnoj razini. (Na dnu posta nalazi se link na veliku Facebook galeriju).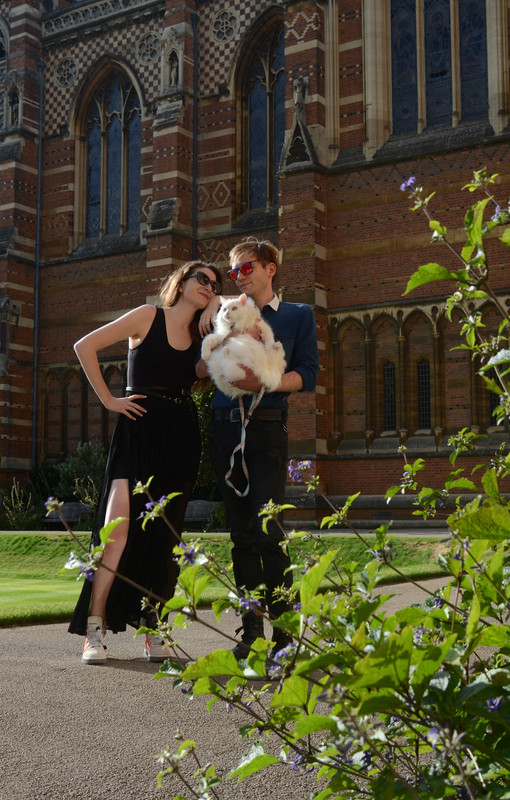 Vendi, Berislav i Pulci, Liddon Quad, Keble koledž, Sveučilište u Oxfordu, kolovoz 2020. (Iz monografije V. Jukić Buča 'Kasnoantički i ranosrednjovjekovni nalazi iz četvrti sv. Teodora u Puli', str. 280, u tisku).
Berislav Buča
Berislav je od 10. mjeseca 2017. godine zaposlen kao postdoktorski istraživač na Odsjeku za fiziku Sveučilišta u Oxfordu, Oxford, GB (https://www2.physics.ox.ac.uk/contacts/people/buca). Od 2019. predaje fiziku na koledžu Keble (Sveučilište u Oxfordu), kao college lecturer. Mentorira doktorske i magistarske studente. 2020. godine, za znanstveni rad i izrazito uspješno mentoriranje doktorskih studenata, Sveučilište u Oxfordu mu je dodijelilo prestižnu Nagradu za izvrsnost (Award for Excellence).
Prošle godine Berislav je započeo istraživanje s ciljem razumijevanja nastanka kompleksne makroskopske dinamike u kvantnim sustavima sastavljenim od mnogo čestica, koristeći matematički principe simetrija. Do prosinca 2020. Berislavovi radovi samo na temu područja koje predvodi citirani su preko 150 puta. Teorijske i eksperimentalne grupe po cijelom svijetu, od Princetona, preko ETH Zuricha, do Tokija, rade na području istraživanja koje je započeo.
Često je pozvan i da drži seminare i predavanja o svojem radu vodećim svjetskim stručnjacima (nerijetko dobitnicima Nobelove nagrade za fiziku), na najrelevantnijim svjetskim sveučilištima. Primjerice, nedavno je na Harvardu održao seriju predavanja o kompleksnoj kvantnoj dinamici, području koje je osnovao.
Napisao je više od 20 znanstvenih radova objavljenih u vodećim svjetskim časopisima, uključujući Nature Communications i Physical Review Letters, a često je i pozvani autor. Jedan od Berislavovih članaka istaknut je od strane urednika vodećeg časopisa na području fizike čvrstog stanja. Recenzent je za najprestižnije znanstvene časopise u fizici, npr. Physical Review X, Physical Review Letters. U svoj rad uključuje i svoju obitelj, te je tako na radu Quantum many-body attractors Vendi, kao modni dizajner, osmislila ime spin lace, a priložena je i ilustracija koja uključuje fotografiju Pulcija (https://arxiv.org/abs/2008.11166).
Aktivan je u održavanju web-stranica arheologija.hr i film-mag.net.
Vendi Jukić Buča
Vendi od 2018. godine radi kao postoktorska istraživačica (Research Associate) na projektu Manar al-Athar, Fakultet za klasične studije Sveučilišta u Oxfordu (https://www.classics.ox.ac.uk/people/dr-vendi-jukic-buca#tab-861841). Od 2019. godine tajnica je Oxfordskog centra za kasnu antiku (https://ocla.web.ox.ac.uk). Pozvani je član Oxfordskog Nizami Ganjavi Centre (https://www.ongc.ox.ac.uk/affiliates). 2019. godine ponuđena joj je pozicija Vanjskog predavača (Associate Lecturer) na području marketinga za Oxfrod Brookes Sveučilištu. Ove godine povećan joj je opseg predavanja s jednog, na dva kolegija. Dok je to vrijeme dopuštalo, surađivala je s izdavačkom kućom Archaeopress na području uredništva i prijeloma publikacija.
Radeći na projektu Manar al-Athar, Vendi je razvila interes za armenijsku skulpturu i kostime. Organizatorica je konferencije 'Armenian and Georgian historical garments – a heritage for heritage management in eastern Turkey', koja je zbog pandemije odgođena dok se ne steknu sigurni uvjeti za njezino održavanje. Za potrebe organizacije ove konferencije, Vendi je dodijeljeno nekoliko financijskih potpora oxfordskih i britanskih akademskih institucija.
Sa suradnicom Kristinom Gwirtzman i profesoricom Christinom Maranci napisala je znanstveni članak o armenijskim crkvenim građevinama s područja istočne Turske, koji je prihvaćen za objavu u časopisu Heritage and Society. Arheološki muzej Istre u Puli objavit će Vendin doktorat u monografskoj formi 2021. godine.
Mačak Pulci [Pulči]
Prema oxfordskom običaju (https://oxfordcats.tumblr.com), mačak preuzima titulu svojeg skrbnika – dakle Pulci je postdoktorski istraživač. Za Portal Pulci je snimio kalendar 2018. godine (http://www.arheologija.hr/?p=11398) u kojem je predstavio vizure Oxforda.
Pulcijevu Facebook stranicu (https://www.facebook.com/kittenpritten) prati više od 85 followera, kojima Pulci redovito prezentira svoju flafastoću, pufastoću, te različite aktivnosti unutar dnevnih obaveza.
U predpandemijskom razdoblju bio je omiljeni putnik britanskih željeznica te oxfordski i londonski celebrity, a danas uživa spavajući na najudobnijoj, kutnoj poziciji njegovog osobnog golemog kauča prigodnog imena Chatnap (https://loaf.com/products/chatnap-modular-corner-storage-sofa).
Vendi i Berislav proteklih godina poslovno i privatno proputovali su gotovo cijeli svijet, od Meksika, preko Irske, Francuske, Italije, Austrije, Švicarske, Njemačke, Turske do Indije. Za to vrijeme Pulcija su budnim okom čuvali Vendini roditelji, u slobodno vrijeme obilazeći Oxford.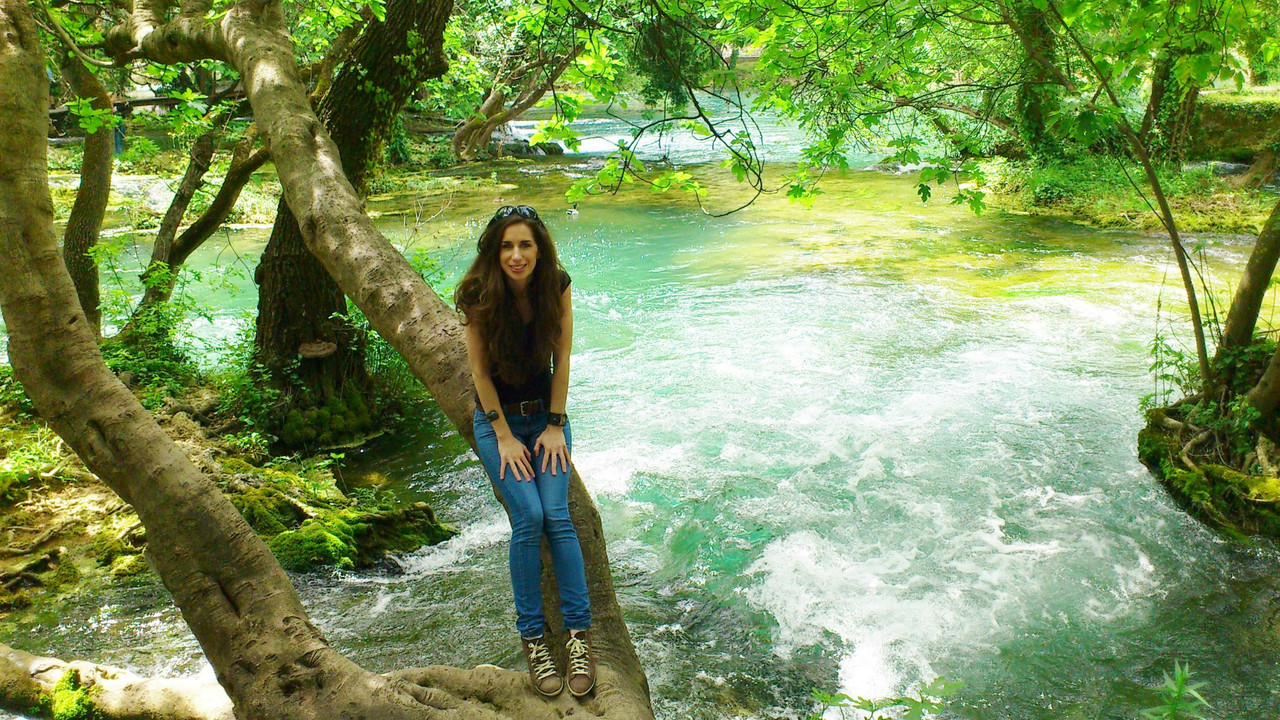 Kristina na rijeci je Nacionalni part Krka. (Foto: Arhiv).
Kristina Gwirtzman
Kristina Gwirtzman od 2016. godine djeluje kao predsjednica udruge Arx Novum (https://arxnovum.wixsite.com/website) usmjerene na djelovanje u kulturi, arheologiji, kulturnom menadžmentu te prezentaciji i tumačenju kulturne i prirodne baštine. Kroz aktivnosti udruge usavršila je iskustva vođenja projekata i projektnih timova, organizacije, logistike, upravljanja ljudskim potencijalima, administracije, poslovnog pregovaranja i 'fundraising-a'.
Voditeljica je, inicijatorica i jedna od idejnih kreatorica projekata 'Revitalizacija primoštenskog zaleđa na temelju kulturno-turističko-etnografske podloge' (2017 godine) i 'Na Guvnu – baština kao pokretač razvoja' (2019 godine) koje je financirala Općina Primošten te zamjenica voditelja arheološkog istraživanja novootkrivenog lokaliteta Grlić na kojem je radila i kao operater drona te iskušala kod nas još prilično nepoznatu nedestruktivnu metodu arheološkog rekognosciranja putem značne termo fotografije kao pomoćnog 'alata' u otkrivanju potencijalnih arheoloških struktura  (https://sibenskiportal.hr/zupanija/primosten/arheoloskim-istrazivanjima-na-grlicu-kod-primostena-pronadeno-mozda-i-najstarije-gumno-u-dalmaciji/). Kroz projekte nastoji poticati interdisciplinarnost i inovativnost u pristupu proučavanja dajući im dodatnu vrijednost. U sklopu projekta 'Na gumnu – baština kao pokretač razvoja', radila je scenografiju (odabir kadrova i lokacija), knjigu radnji, snimanje i montažu triju kratkih dokumentarnih filmova (Žetva primoštenskog kraja, Na guvnu, Na gusterni) (https://www.youtube.com/channel/UCV50UezAu7cR50bhRyJa8yg/videos).
Glavna je urednica i prva autorica knjige 'Primoštenska gumna u prošlosti i sadašnjosti' (https://morski.hr/2020/02/14/izasla-je-prva-knjiga-o-gumnima-u-hrvatskoj/), zasad prve i jedine knjige ovakve tematike u Hrvatskoj. Autorica je brojnih tekstova, fotografija i ilustracija za potrebe Udruge Arx novum, a 2019 godine u sklopu Udruge oblikuje vizualni identitet poučne ploče i ilustracije za potrebe Hpd Pusti Lobor. Djeluje i kao stručni konzultant u pripremi i osmišljavanju projekata i sadržaja edukativnih staza za turističke zajednice diljem Hrvatske. Svjesna je nužnosti konstantnog profesionalnog usavršavanja i praćenja primjera dobre prakse. 2018. godine upisuje stručno usavršavanje iz grafičkog dizajna te stječe titulu Specijalist grafičkog dizajna i digitalnog izdavaštva. Posjeduje certifikat znanja u profesionalnim programima iz Adobe Creative paketa. Nedugo zatim započinje suradnju s izdavačkom kućom Archaeopress, Oxford, na području prijeloma i pripreme za tisak stručnih publikacija.
Sa suradnicama Vendi Jukić Buča i Christinom Maranci napisala je znanstveni članak o armenijskim crkvenim građevinama s područja istočne Turske koji je u postupku objave u časopisu Heritage and Society. Kristina je pozvani  predavač stručne radionice 'Armenian and Georgian historical garments – a heritage for heritage management in eastern Turkey' (Faculty of Classics, University of Oxford), koja je radi korona krize odgođena za sljedeću godinu.
Svoje aktivnosti i dalje nastavlja u istom smjeru, a bogata iskustva, odnosno primjere dobre prakse, stečena brojnim putovanjima i posjetima kulturnim manifestacijama, izložbama, muzejima, raznim tematskim, arheološkim i prirodnim parkovima diljem svijeta konstantno implementira u svom radu u želji za postizanjem što boljih rezultata.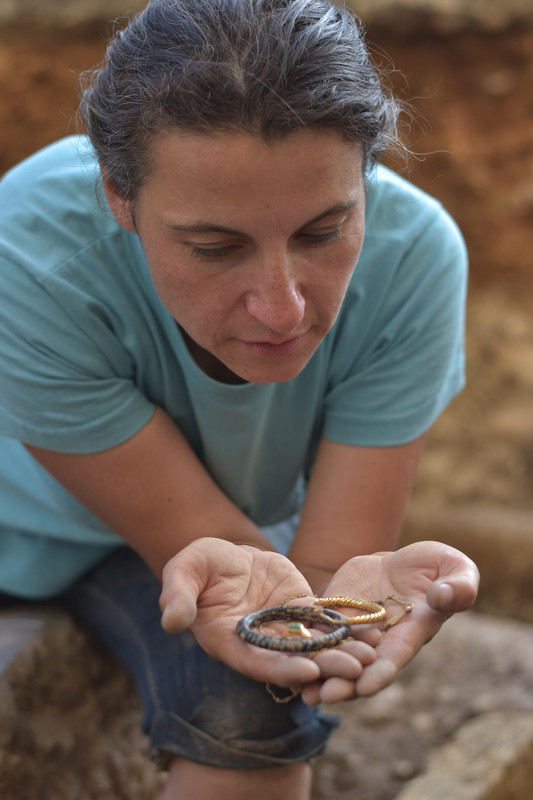 Pavla tijekom istraživanja Gospodsvetske ulice u Ljubljani. Foto: David Badovinec (MGML).
Pavla Peterle Udovič
Pavla Peterle Udovič zaposlena je od 2020. godine kao konzervatorica na Zavodu za zaštitu kulturnog naslijeđa (Zavod za varstvo kulturne dediščine), OE Novo Mesto. U okviru svojih radnih zadataka određuje kulturnozaštitne uvjete i odobrenja za radove nad nepokretnom baštinom te provodi stručni nadzor nad provođenjem arheoloških istraživanja na području Dolenjske i Bele krajine. Uz navedeno, priprema konzervatorski plan za važno pretpovijesno i kasnoantičko nalazište Kučar pri Podzemlju.
Tijekom 2017. i 2018. godine u Ljubljani je radila kao terenska arheologinja na poznatim iskopavanjima kasnoantičkog groblja na Gosposvetskoj cesti. Vodila je iskopavanja na Slovenskoj cesti i arheološka istraživanja u Kamiku. 2019. godine otkrila je rimsko groblje u Velikoj staroj vasi kod Grosuplja.
Već deset godina sa svojom tvrtkom ArheoVed redovito sudjeluje u događanjima na temu kulturnog naslijeđa (Praznik situla u Novom mestu, Rimskim danima na Zaplani, Koliščarskom danu i Kolišcarskim kampovima na Igu, kdje se odvijaju različite iskustvene radionice za posjetioce priredbi).
2020. godine, u okviru 18. Ljetne muzejske noći, koju svake godine organizira Medobčinski muzej Kamnik, Pavla je pripremila modnu reviju rekonstruiranih rimskih kostima brenda ArchaeoRobe.
Od 2018. godine obavlja funkciju podpredsjednice nevladine, dobrovoljne, filantropske i neprofitne organizacije Saveza prijatelja omladine Slovenije, organizacije koja se zauzima za podizanje kvalitete života djece, mladih i obitelji, zastupanje i provođenje njihovih intresa i potreba te zaštita njihovih prava.
Suosnivačica je ekološkog gospodarstva naziva Prirodni dom (Naraven dom, Natural home) u Staroj Bučki kod Škocjana, gdje se uspostavljaju biljna livada (zeliščni travnik, divji travnik) i šumski vrt. U okviru gospodarstva se priprema poučna iskustvena staza za posjetitelje, zainteresirane za divlju hranu, ljekovitom bilju, jednostavnom vrtlarenju i prehrani u prošlosti. Na gospodarstvu je moguće prenoćiti.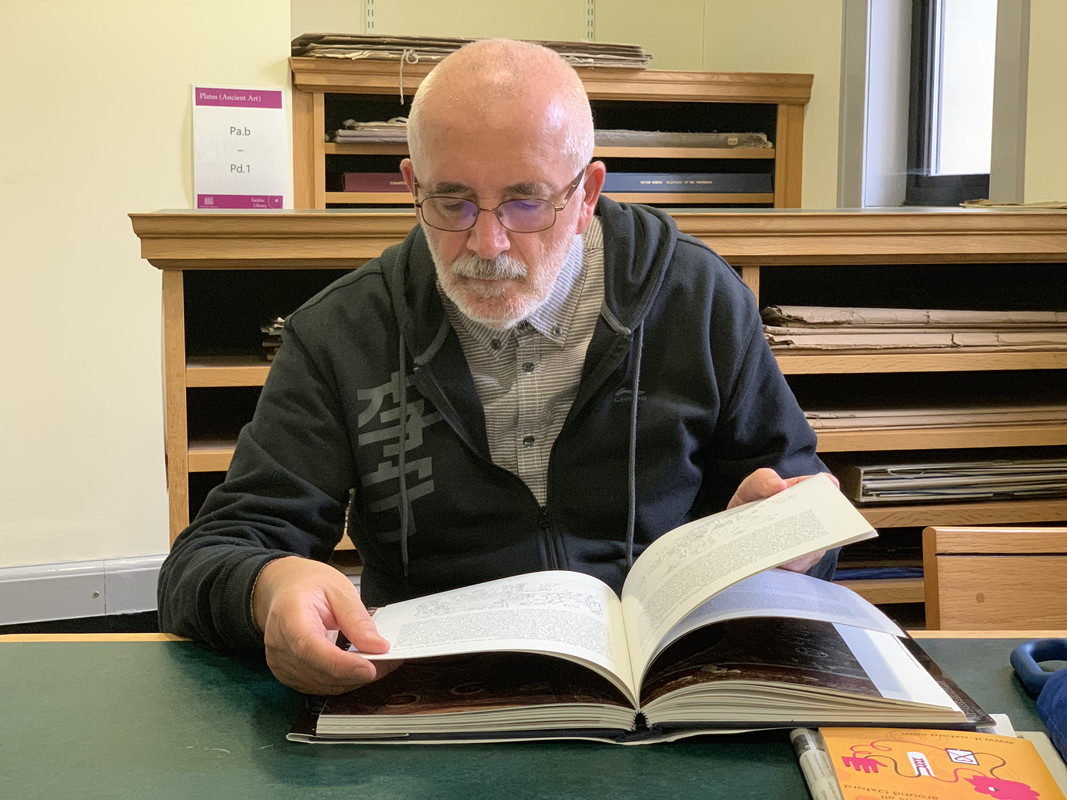 Robert u knjižnici Sackler (Bodleian Libraries), Oxford. Foto: VJB.
Robert Jukić
Robert Jukić u Zagrebu je studirao komparativnu književnost i povijest umjetnosti te diplomirao na Fakultetu građevinskih znanosti. Uz profesiju, trajno ga zanima film i kinematografija. Član je Hrvatskog društva filmskih kritičara. Kao kolekcionar posjeduje impozantnu kolekciju Blue Ray i DVD filmova, knjiga, glazbenih CD-a i vinilnih ploča. Urednik je portala film-mag.net. Živi i piše u Zagrebu, ljetuje u Puli, a omiljena mu je inozemna destinacija sveučilišni Oxford u Velikoj Britaniji.
Projekti:
Projekt ArheoKalendar©
Nastavljamo izradu autorskog projekta ArheoKalendar©, u godišnjem ritmu izdanja krajem prosinca za narednu godinu. Do sada su objavljeni kalendari za 2014., 2015., 2016., 2017., 2018. i 2019. godinu. Partneri ArheoKalendara© bili su ArcaheoROBE (i Galerija Klovićevi Dvori), fotografski arhiv Manar al-Athar i arheološko nalazište Kom al-Ahmer. Ove godine ArheoKalendar© objavljujemo u suradnji s Arheološkim muzejem Istre u Puli, na temu monografije autorice Vendi Jukić Buče, u postupku objave tijekom 2021. godine. Link: http://www.arheologija.hr/?p=13154
Projekt arheoloških kostima i replika ArchaeoROBE
Udruga Arx Novum koristila je kostime ArchaeoROBE tijekom photosessiona vezanog uz fašnik (https://www.facebook.com/ArxNovum/posts/653538095060600).
Pavla Peterle Udovič predstavila je ArchaeoROBE rimske kostime na modnoj reviji u Kamniku  (https://www.facebook.com/muzej.kamnik/posts/1621530441347409).
*Sve navedeno napravili smo u vlastitom financijskom i radnom angažmanu, bez vanjskih novčanih poticaja i bez reklama.
Statistike
Prema riječi 'arheologija' na google.hr, Facebook stranica portala Arheologija.hr nalazi se na trećem mjestu (iza engleske i hrvatske Wikipedije), dok se stranica Arheologija.hr nalazi na 5. mjestu, ispod gore navedenih te natuknice iz Hrvatske enciklopedije. Arheologija.hr prva je arheološka web stranica na tražilici (uključujući individualne web stranice muzeja i fakultetâ, koje tek slijede).
Mjesečno u prosjeku primi 3400 posjeta, što je u protekloj godini dana značilo gotovo 40000 posjeta. Najveći broj posjetitelja dolazi iz Norveške, Izraela, Hrvatske i Amerike.
Stranica Portala http://www.facebook.com/Arheologija u ovom trenutku broji 3,593 like-ova i 3,814 follower-a.
Zahvaljujemo na potpori!
For auld lang syne 2021
Namjeravamo i dalje podizati kvalitetu sadržaja i izražaja te širiti krug suradnika i čitatelja u Hrvatskoj i regiji, kao cjeloviti arheološki portal s obilježjima inovativnosti, kreativnosti uz praćenje tehnoloških trendova.
Kako bismo proširili područje djelovanja, pozivamo zainteresirane institucije, muzeje i druga organizacijska tijela i pojedince kojima je arheologija predmet stručnog interesa, na suradnju.
Naš e-mail je arheologija[@]arheologija.hr.
Srdačno!
Glavni i odgovorni urednik
Dr. sc. Vendi Jukić Buča
vendi[@]arheologija.hr
U Oxfordu, 31. 12. 2020.