Institut za povijest umjetnosti – Centar Cvito Fisković
srdačno Vas poziva na 4 po redu stručno i znanstveno okupljanje pod zajedničkim naslovom Otkrivanje Dalmacije.
Program počinje u četvrtak, 22. 11. predavanjem u 10 sati u Centru Studia Mediterranea (Šegvićeva kuća na Peristilu, najgornji kat) jutarnjom sesijom konferencije Otkrivanje Dalmacije;
popodne u 17 sati Vas očekuju predavanja o obnovama vrtova na Lorkumu i u Trogiru, a u petak se program nastavlja nizom predavanja na temu Dalmacije i putopisa.
Četvrtak, 22. 11.
STUDIA MEDITERRANEA
JUTARNJA SESIJA
Otkrivanje Dalmacije
Moderatori : Joško Belamarić, Siniša Runjaić
10.00 – 10.20
Antonia Tomić
Preuzimanje i transformacija značenja antičkog arhitektonskog nazivlja širenjem kršćanstva
10. 25 – 10.45
Antonia Vodanović
Salamunovo slovo u kontekstu tradicijske arhitekture Makarskog primorja
10.45 – 11.05
Jasenka Gudelj, Petar Strunje
Antičko nasljeđe istočne Jadranske obale i renesansni arhitektonski rječnik
11.10 – 11.25
Pauza
Public Presentation
11.25 – 11.45
PREDSTAVLJANJE PROJEKTA
Hrvatski pojmovnik klasične arhitekture (KLAS)
11.25 – 12.00
Rasprava
POPODNEVNA SESIJA
JAVNA PREDSTAVLJANJA
17.00 – 18.00
Mara Stojan
Gardens of the island Lokrum during the Habsburgs
Ivan Viđen
An Overview of the Current Research on the Benedictine Monastery and Maximilian's Residences on Lokrum (1986-2018)
18.00 – 19.00
Igor Belamarić i Ana Šverko
The Restoration of the Garagnin-Fanfogna Park in Trogir
Petak, 23. 11.
Kinoteka Zlatna vrata
JUTARNJA SESIJA
Otkrivanje Dalmacije
Moderatori: Sanja Žaja Vrbica, Danko Zelić
10.00 – 10.20
Sarah Rengel
Writing the 'Inner Lives' of the East – Encounters Between Women in the Work of Female Travel Writers
10.25 – 10.45
Elke Katharina Wittich
Stones and Costumes – Subjects of Interest in Alberto Fortis' "Viaggio in Dalmazia"
10.50 – 11.10
Colin Thom
'This Knotty Business': the making of Robert Adam's Spalatro (1764), revealed in the Adam brothers' Grand Tour letters
11.15 – 11.45
Rasprava
POPODNEVNA SESIJA
Otkrivanje Dalmacije
Moderatori: Ana Šverko, Colin Thom
14.00 – 14.20
Sanja Žaja Vrbica
Highlands and islands of the Adriatic: Dubrovnik in Andrew Archibald Paton's 1849 Text
14.25 – 14.45
Josip Belamarić
Jean Baptiste Van Moer (1819-1884), Images of the Peristyle of Diocletian's Palace
14.50 – 15.10
Hrvoje Gržina
19thcentury Dalmatia inverted in camera: photographic glass plate negatives by Franz Thiard de Laforest
15.15 – 15.45
Rasprava
16.00 – 18.00
Obilazak Dioklecijanove palače
Više o programu i sažecima izlaganja potražite na linku:
https://www.ipu.hr/content/info/Discovering-Dalmatia-IV-book-of-abstracts.pdf
Radujemo se vašem dolasku!!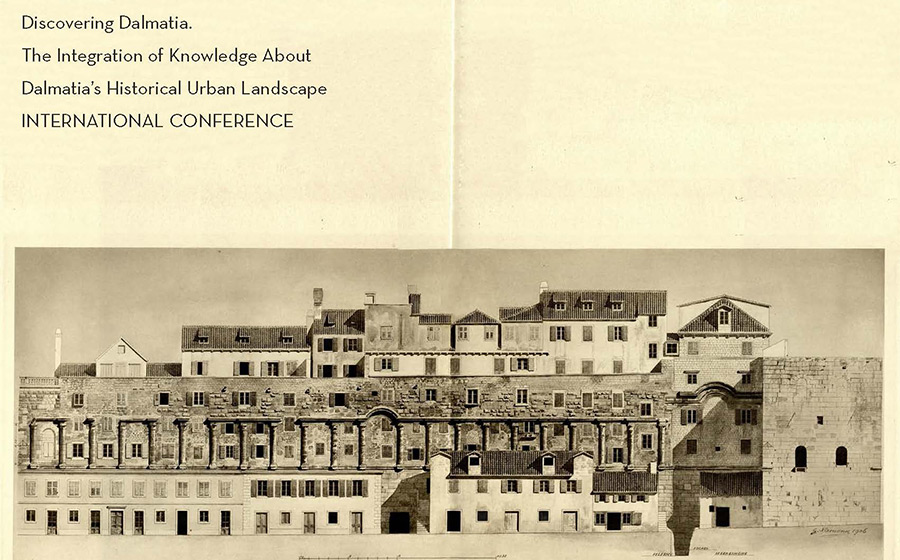 Info
IPU PRESS