U Dublinu je već u srednjem vijeku, 1320. godine, osnovano sveučilište odredbom Pape Klementa V. koje je nekoliko stoljeća djelovalo u okviru Katedrale sv. Patrika. Tijekom reformacije ovo prvotno sveučilište je ukinuto. Kraljica Elizabeta I. 1592. godine osniva Trinity koledž prema modelu studija u Oxfordu i Cambridgeu. Za razliku od potonjih, koji obuhvaćaju više koledža (pod ingerencijom centralne sveučilišne administracije), u slučaju Trinityja osnovan je samo jedan koledž te se Trinity College i University of Dublin odnose na istu instituciju. Isprva lociran izvan gradskih zidina, na području Samostana Svih svetih, Trinity se početkom 18. stoljeća premješta na današnje područje College Green. Prve su izgrađene Old Library, Printing Hall i Dining Hall. Danas, Trinity obuhvaća više fakulteta i škola. Brojni svjetski poznati humanisti i znanstvenici studirali su na Trinityju – među najpoznatijima, prema osobnom izboru, mogli bi se istaknuti Oscar Wilde, Bram Stocker, Samuel Beckett (prema kojem je nazvano i kazalište na Trinityju) te matematičar George Salmon (čija se skulptura nalazi u središtu unutarnjeg dvorišta) i fizičar Ernest Thomas Walton. Uz veliki izbor studija, na Trinityju se može studirati također i Staru povijest i arheologiju na Odsjeku za klasiku.
Kao najznačajnija edukacijska ustanova u Irskoj, Trinity čuva brojne zanimljivosti, od kojih je najznačajnija (ili barem najpoznatija) Knjiga Kellsa (The Book of Kells) te impresivna kolekcija knjiga u okviru Stare knjižnice (The Old Library), stoga je izuzetno turistički posjećen. Brojne 'puteve' (eng. trails) po Trinitiyju organizira službena sekcija uspostavljena upravo za tu funkciju. Trinity možete obići i sami, uz pomoć aplikacije koja nudi dvije glavne ture, Trinity Trails i The Book of Kells, prezentirane audio i virtualnim dokumentima, za čiju je dostupnost potrebno kupiti kartu. Bez naknade. unutar aplikacije, virtualno, čak i po povratku s putovanja, možete obići dijelove Muzeja, Javnu predavaonicu, Staru predavaonicu za anatomiju te Stari muzej anatomije.
Imala sam vremena samo posjetiti Staru knjižnicu, u okviru čije se infrastrukture čuva i izložbeno prezentira Knjiga Kellsa. Stara knjižnica jedna je od najstarijih istraživačkih knjižnica na svijetu te sadrži najveću kolekciju starih manuskripata i knjiga u Irskoj. Otvorena pri sredini, originalna Knjiga Kellsa čuva se u posebnoj prostoriji, u vitrini, pod neinvazivnim svjetlom unutar optimalnih konzervatorskih uvjeta i nije ju dozvoljeno fotografirati. Ali zato izložba prikazuje uvećane stranice, zanimljive detalje i pojedinosti te povijesne okolnosti njezinog nastanka i izvedbe.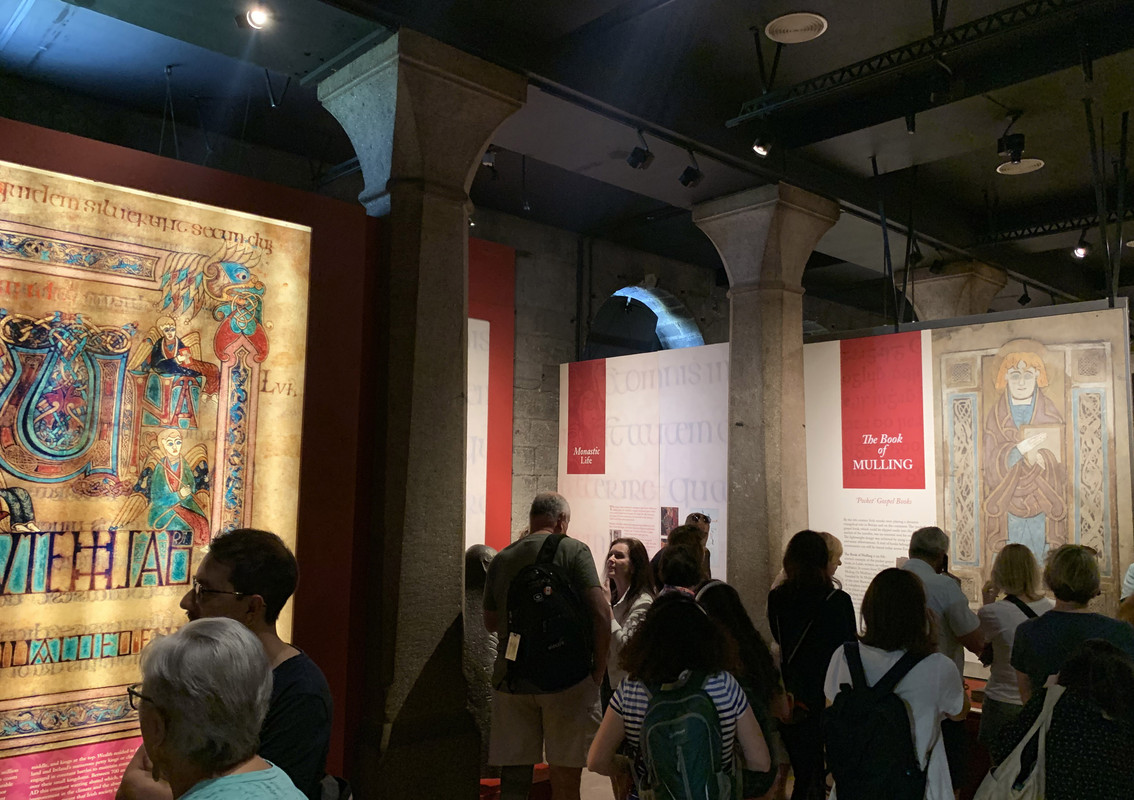 Izložba 'Knjiga Kellsa'. Fotografija: Vendi Jukić Buča.
Uz Knjigu Kellsa prikazani su i izabrani artefakti koji svjedoče onodobnom korištenju pisma u Irskoj te stavljaju u kontekst Knjigu Kellsa. Izložena su dva kamena s oghamskim pismom. Ogham je drevni alfabet nazvan prema irskom bogu govorništva Oghamu, kojim se staroirski izričaj dokumentirao na drvetu i kamenu. Uglavnom su se nalazili na području južne Irske, ali također u Walesu, Škotskoj, Engleskoj te Isle of Man, a većina potječe iz 5. i 6. stoljeća. Poznato je oko tristotinjak Ogham kamena, a oko 80 ih potječe samo iz okruga Kerry. Pretpostavlja se da su dva kamena postavljena u okviru izložbe originalno označavala teritorijalne granice. Veći kamen pronađen je na području brončanodobne utvrde cirkularnog utvrđenog naselja u Fort William (okrug Kerry). Pismo se prestalo koristiti za upisivanje u kamen tijekom 7. stoljeća, ali je prisutno na marginama manuskripata iz 9. stoljeća. Uz dva Ogham kamena nalaze se slike iz dvije džepne knjige irskih evanđelja (gr. εὐαγγέλιον, dobra vijest): Book of Mulling i Book of Dimma, koji su stariji od Knjige Kellsa. Evanđelja su ručno prepisivana do invencije tiskarskog stroja i bila su krucijalna tijekom misionarskih radnji. Ova džepna evanđelja skromna su u izvedbi, dostupna i lako prenosiva. Knjiga Durrowa (The Book of Durrow) (650.-700. god.) smatra se najstarijim u potpunosti ilustriranim manuskriptom četiriju evanđelja na latinskom jeziku izrađenom u okviru inzularne umjetnosti (umjetnost razdoblja od 6. do 10. stoljeća na području Irske i Britanije). Knjigu Durrowa i Knjigu Kellsa dodijelio je Trinityju Henry Jones, anglikanski biskup Clogera i biskup Meatha sredinom 17. stoljeća.
Knjiga Kellsa napisana je oko 800. godine, 400 godina nakon što je Sv. Patrik došao u Irsku, a sadrži evanđelja četiri Evanđelista. Sv. Kolumba osnovo je Iona samostan (Iona Abbey) na zapadnoj obali Škotske te se smatra da je Knjiga Kellsa nastala upravo ondje prilikom obilježavanja obljetnice njegove smrti. Iako izoliran, samostan su u nekoliko navrata napali Vikinzi krajem 8. i početkom 9. stoljeća te su neki od preživjelih opata napustili Ionu i osnovali novi samostan u Kellsu (Abbey of Kells) u okrugu Meath, kamo su sa sobom ponijeli i Knjigu Kellsa. U 11. stoljeću Knjiga Kellsa bila je ukradena iz crkve u Kellsu, a pronađena je zakopana u zemlji skoro tri mjeseca poslije. Pretpostavlja se da su korice te prve i zadnje stranice tom prilikom uništene.
Na izložbi je prikazana uvećana stranica s autorima četiri evanđelja u Novom Zavjetu, Evanđelistima – Sv. Matej, Sv. Luka, Sv. Marko te Sv. Ivan. Njihove simbole identificirao je Papa Grgur u 4. stoljeću kao četiri stadija Kristova života: rođen kao čovjek biva žrtvovan kao žrtveni vol, lav je u uskrsnuću te orao koji se uznosi u raj. Tzv. Hi-Ro (gr. XP, eng. Chi Ro) stranica smatra se najimpresivnijom stranicom u manuskriptu. Riječima Christi autem generatio započinje narativ Matejevog evanđelja s imenom Krista u grčkoj skraćenici Hi-ro prikazanog preko cijele visine stranice. Stranica je gusto ispunjena vizualnim podsjetnicima euharistijskog slavlja i Kristova uskrsnuća.
Knjiga Kellsa izniman je primjerak bogatstva i ljepote dekoracije. Izrađena je na posebno pripremljenoj telećoj koži (vellum). Pigmenti korišteni prilikom njezine izrade i danas su postojani. Istraživanja su pokazala da su se za njihovu izradu koristili lokalni materijali, od indiga, željezne rude, arsena i sulfata do bioloških organizama. Jedna od vitrina prikazuje izbor materijala. Boja se nanosila različitim metodama za postizanje sjenčanja, miješala se ili nanosila u slojevima. Ova skupocjena knjiga često je prepravljana i popravljana, a neki od popravaka su vidljivi. Vidljivi su i komentari opata koji su je izrađivali, a koje su zapisivali u marginama.
Iz prostorije izložbe pristupa se prostoru Stare knjižnice. Na istočnom kraju Duge sobe (The Long Room) nalazila se Knjižnica Fagel. Godine 1802. dobrotvorna ustanova Erasmus Smith kupila je za Trinity koledž oko 20000 knjiga, pamfleta i karti koji su pripadali bibliofilu Hendriku Fagelu, glavnom ministru Nizozemske. Kolekcija sadrži knjige politike, zemljopisa, povijesti, prava od 15. do 18. stoljeća. Neke karte smatraju se najstarijima na svijetu. Prilikom remodelacije Stare knjižnice tijekom šezdesetih godina XX stoljeća, polovica ove kolekcije morala je biti premještena, ali se dio originalne strukture može vidjeti u posebno ograđenom dijelu te na YouTube kanalu kolekcije. Stara knjižnica, čija se unutrašnjost izrađena u hrastovini smatra najimpresivnijom u Irskoj, trenutno se nalazi u postupku preuređenja, koji je ukratko opisan na panelima postavljenim na različita mjesta prije ulaza i u samom prostoru knjižnice. Knjižnicu su od sredine 18. stoljeća do danas koristili studenti i znanstvenici. Svaka od 200 000 knjiga pojedinačno se čisti specijalnim usisavačem, mjeri, elektronički obilježava i katalogizira prije premještaja u klimatski kontrolirano skladište. Planira se i restauracija unutrašnjosti te adaptacija u novi knjižnični i izložbeni prostor. Trenutno su mnoge police prazne (proces uklanjanja knjiga naziva se decant), a na njih su naslonjene duge ljestve za pristup najvišim područjima. U središtu Duge sobe nalaze se vitrine s posebnim izlošcima (primjerice jedna od sačuvanih kopija proklamacije Republike Irske iz 1916. godine). Tu su i biste relevantnih pojedinaca te vitrina s harfom. Najstarija harfa u Irskoj, Brian Boru harfa, asocirana je s kraljem Irske koji je izgubio život u bitci kod Clontarfa 1014. godine. Izrađena je od hrastovine i vrbe te ukrašena rezbarenjem i poludragim kamenjem (kojeg više nema), a sadrži 29 mjedene strune (radi čega ima istočnjački prizvuk). Donirana je Trinityju 1782. godine.
Posjet završava trgovinom u kojoj sam, uz brojne tradicionalne suvenire, srebrni nakit te vunene pokrivače, uočila i majicu koju mi je Berislav donio sa svog prvog posjeta Trinityju 2018. godine.
U Kopenhagenu, 27. rujna 2023.
Vendi Jukić Buča
Izabrani linkovi
https://www.visittrinity.ie/
https://www.tcd.ie
https://ogham.co/